Monitor HMS 'M33' Inauguration at Portsmouth
On 6th August 2015, Chairman, Christopher Fagan with several Gallipoli association members were present at the inauguration of the restored Gallipoli Monitor HMS "M33", the last surviving fighting ship which took part in the Gallipoli campaign. HMS "M33" is an M29-class monitor of the Royal Navy built and launched in Belfast in May 1915, a wartime construction that only took five weeks to complete. She saw active service in the Mediterranean during the Great War where she supported the British and ANZAC forces at Gallipoli during the August Offensive at Sari Bair and Suvla. Her 6-inch guns provided valuable support for the infantry ashore. HMS "M33" remained at Gallipoli right up to the evacuation in January 1916.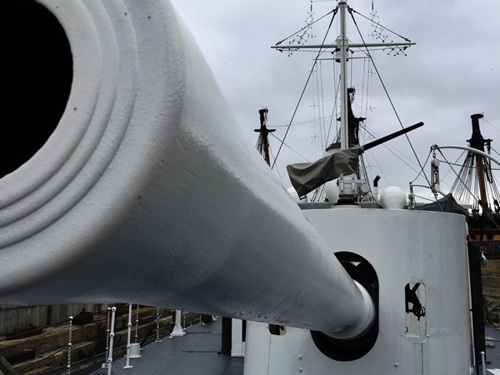 Left: One of M33's 6-inch guns (photo credit: Stephen Chambers) 
Even though HMS "M33" was hit, she was known as the 'lucky ship' as none of her crew became casualties from 1915 through to the end of WW1, where incidentally, she went on to support the operations during the Allied intervention during Russian Civil War in 1919.
Restored, and now in dry dock at the Portsmouth's Historic Naval Dockyard, she is now open to the public to visit and learn her contribution to the Gallipoli campaign.
She was used subsequently as a mine-laying training ship, fuelling hulk, boom defence workshop and floating office, being renamed HMS "Minerva" and Hulk "C23" during her long life. She passed to Hampshire County Council in the 1980's and was then handed over to the National Museum of the Royal Navy in 2014. A programme of conservation was undertaken to enable her to be opened to the public. HMS "M33" is located within Portsmouth Historic Dockyard and opened to visitors on 7 August 2015 following this service of dedication. She is one of only three surviving Royal Navy warships of the First World War and the only surviving fighting ship from the Gallipoli Campaign.
---
The event, on 6th August, was attended by a large crowd which included several members from the Gallipoli Association. Present from Australia was Ross Bastiaan, who many of us are probably familiar with from the bronze plaques that mark many of the Australian battlefields around the world, including the Gallipoli battlefield. Ross was commissioned this time by the Portsmouth Historic Naval Dockyard to create a special plaque for HMS"M33", which was unveiled on 6th August, the anniversary of the Battle of Sari Bair and the Landing at Suvla.
See the photos below, kindly sent in from Major & Mrs Holt and Centenary News, for images of the event.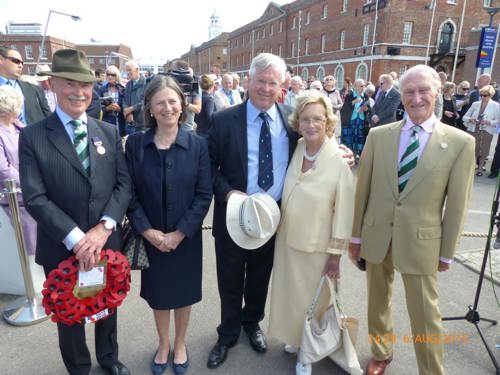 Above: Chairman, Christopher Fagan, Deborah & Ross Bastiaan, Valmai & Tonie Holt (photo credit: Major Holt)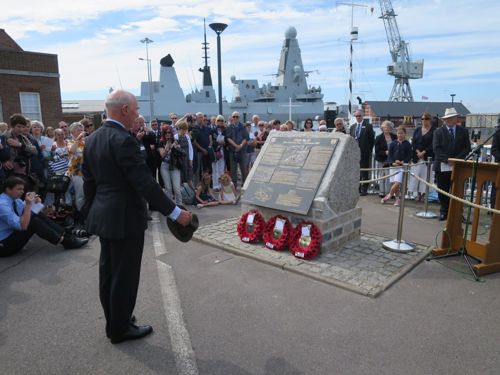 Above: Christopher Fagan laying a wreath at the inauguration of the Bastiaan Plaque to HMS "M33" at Portsmouth (photo credit: Centenary News)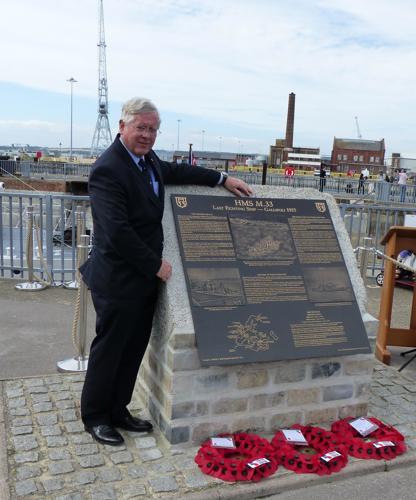 Above: Ross Bastiaan by the "M33" bronze plaque (photo credit: Major Holt)
---
Stephen Chambers
Gallipoli Association
August 2015