Gallipoli on your doorstep
Cemeteries in the U.K. can be rich sources of information on those who were killed or wounded in the campaign.
Members will know that most of the Allied dead were buried in cemeteries in Turkey or the Greek islands. However, some of the wounded returned to Britain and sadly died. Sometimes this was many years after the campaign. On occasions they have CWGC headstones.  Some are remembered on communal memorials in U.K cemeteries. Some of the dead are remembered on family memorials.
Recently I have been working with the Friends of Brandwood Cemetery (a cemetery in Birmingham) to produce a booklet on the Gallipolians remembered in the cemetery. They had already done a lot of research but we found out even more and got help from some of the many experts living in Birmingham.
There are four men commemorated in the cemetery who definitely served in Gallipoli and three possible (all Australian).
Private Horace George Turner (2244), 1st/1st Warwickshire Yeomanry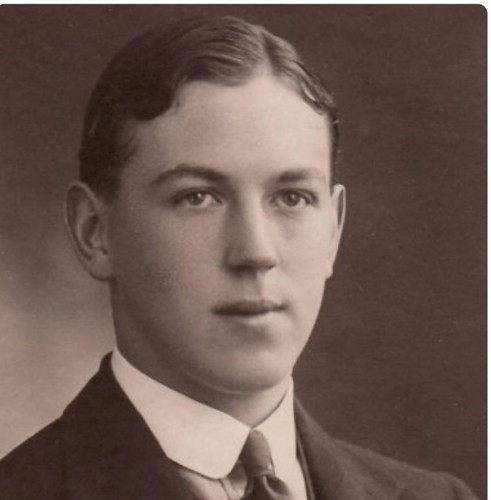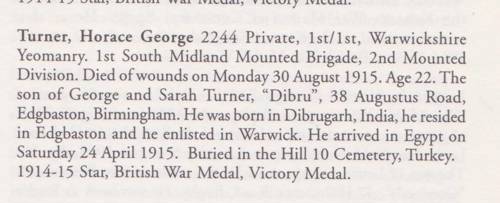 The Warwickshire Yeomanry were a long standing cavalry regiment, made up of part time volunteers. The majority volunteered for overseas service at the outbreak of the war. They formed part of the 2nd Mounted Division which arrived in Gallipoli in August 1915. On landing in Suvla Bay they were then decimated in an attack on Scimitar Hill. The Warwickshire Yeomanry continued to serve in the trenches, which is where Horace was wounded.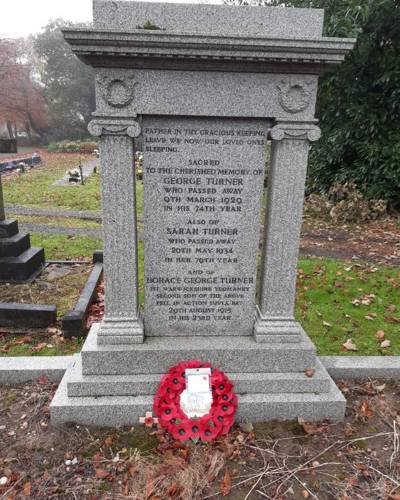 The Turner family grave.
Private Charles Henry Cripps, (6261) 9th Btn, Royal Warwickshire Regiment
Charles served with the 9th Battalion Royal Warwickshire Regiment. He was 42 when war broke out. He had a colourful early life and clearly answered the call when war broke out. He may have had a brother who also served with the battalion in Gallipoli. The battalion fought in some of the fiercest battles in August 1915. He was wounded on 19th August 1915. This was during a "quiet" time in the campaign. His wounds were obviously serious as he never saw active service again and was invalided home in 1916.


He died on 22nd March 1921 in Northfield Ministry of Pensions (Military) Hospital and was buried in Brandwood End Cemetery. He has a separate grave in the cemetery and is remembered on the communal memorial.
Private Alfred Harold Pane, (8932) 9th Btn, Royal Warwickshire Regiment
He was born in Birmingham 1897, the son of Mrs. Alice Mary Pane of 43 High Street Birmingham and the late Mr. Alfred John J. Pane. He is likely to have volunteered in 1914 and fought in Gallipoli. He went on to fight in Mesopotamia and then joined Dunsterforce, a group of British soldiers, fighting against the Turks and the Russian Bolsheviks. He died on 1st September 1918 aged 21. He is remembered on the  CWGC Basra Memorial in present day Iraq. He is also remembered on the family grave in Brandwood End.
The 9th (Service) Battalion, Royal Warwickshire Regiment was formed in Warwick in August 1914 but included many volunteers from Birmingham. They landed in Gallipoli as part of the  13th (Western) Division in July 1915 and fought in some of the fiercest battles in August. They were evacuated to Egypt in January 1916 and then moved to Mesopotamia in the following month. They remained there until the end of the war.
Sapper Edwin Frederick Warth (864), 1st Field Company, Royal Naval  Division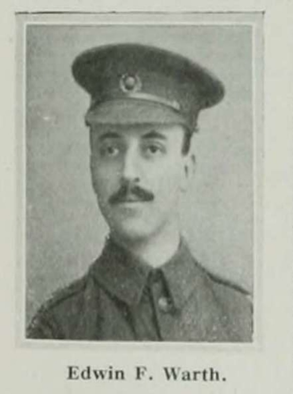 He was born in Mussourie, India, the son on Dr. Hugo and Mrs. Warth, who later lived at 109 Sandford Road, Moseley, Birmingham. We know that he gained a degree in engineering at Birmingham University.
Having been a member of the Officer Training Corps at the University of Birmingham for five years, Edwin applied for a commission and was gazetted as a Second Lieutenant on 24th March 1915. However, he was unable to take up his commission as he had enlisted as a Sapper in the 1st Field Company, Royal Naval Division whilst waiting for the commission to come through and had already left for the Dardanelles. He was wounded at Gallipoli and died aged 26 on 25th June 1915.
He is buried in Alexandria Military and War Memorial Cemetery but is also remembered on the family grave in Brandwood End.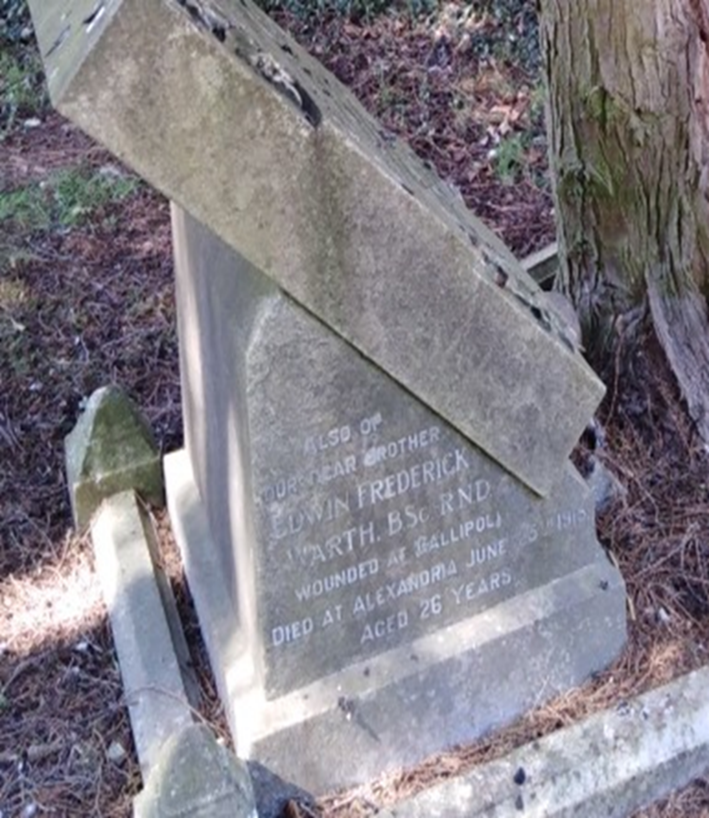 The Warth Family Grave.
The Australians
All three were born in the UK, almost certainly lived in Australia but were buried in Brandwood End Cemetery. The likelihood is that they were wounded or sick and died on their return, or they may have died of natural causes. More research is needed!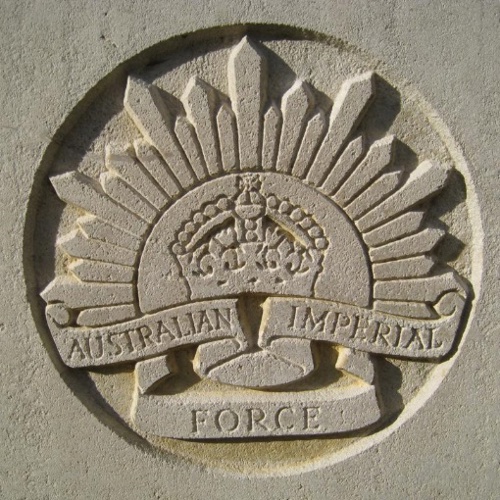 Walter Roland Todd (417), Australian Munition Worker
He died aged 39 on 13th December 1917. He was born at Birmingham, England, son of George William and Margaret Ann Todd.
Private William Ashley Vickery (704), 4th Btn. Australian Infantry
The battalion served in Gallipoli and later on the Western Front. He died on 28th December 1920, aged 29. He was the husband of L. M. Vickery, of 22, Greenwood Avenue, Acocks Green. Did he leave her behind to go to Australia? Did she return to be with him?
Private Ernest Barrett (7686), 13th Btn Australian Infantry
The battalion also served in Gallipoli and the western Front.  He died on 8th February 1921. He was born in Aston and was the husband of Maggie Barrett.
---
I am looking for other groups to work with and can provide a small amount of funding. If you are part of a community group and are interested, contact myself via education@gallipoli-association.org.
Ian Binnie, Education Co-ordinator.