Education Report - Jan 2019
Current Educational Projects
I was appointed Educational Co-ordinator of the GA in the spring. My brief is to build on the successes of my predecessors, such as Robin Clutterbuck and organise projects that promote knowledge and understanding of the campaign to both adults and young people. A small budget has been made available. In July seven such projects were approved by the Trustees. These are:
Offering bursaries to post-graduate students at Kings College, Buckingham, Birmingham & Wolverhampton Universities, who are studying the campaign for their dissertation or theses. So far, one application is being considered with more expected in the new year.
Offering small grants for community groups to organise activities based on local Gallipoli memorials. This has the support from War Memorials Trust who have helped publicise the opportunity. So far applications have been received from groups in Rochdale and Birmingham.
Subsidising places, on existing trips, for military museum volunteers to become Gallipoli "Champions". This project has had the support of the Army Museum Ogilby Trust and its Director Andrew Lloyd. The "champions" have to agree to join the GA, produce leaflets for the museum and write an article for the Gallipolian. So far applications have been received from volunteers at the Hereford Light infantry Museum and the Queen's Royal Lancers and Nottinghamshire Museum.
It was proposed to hold "Gallipoli Day" at the Staffordshire Regiment Museum for adults and young people, using their popular trench with re-enactors playing the part of soldiers at Gallipoli. Initially this was to take place during the Easter holidays of 2019 but for a variety of reasons, now cannot take place. I am now exploring alternative trenches in Birmingham, Suffolk and Kent.
Producing a film on the 29th Division march past and memorial, with the Stretton on Dunsmore Local History Society and various other organisations. Good progress has been made, with the film company, Stuart Kettell Videos, being particularly helpfu. I have also received excellent support from two historians of the march past, Tony Jordan and Chris Holland. The finished film, which is due to be completed in September 2019, will include contemporary photographs, commentaries and film of next year's commemoration.
Supporting an art competition, a trip to Gallipoli and the production of a memorial by students at Brune Park School, Gosport. Ten winners of the art competition will get to go to on a four day visit Gallipoli. On their return they will act as leaders in the second part of the project which involves the production of a war memorial to Gosport Gallipolians.
Examples of post cards from Brune Park students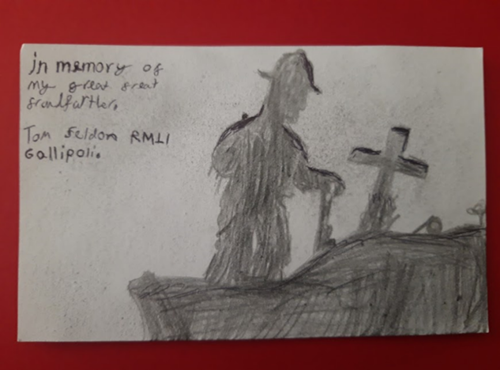 Supporting activity days on HMT River Clyde, for primary school pupils, at the Royal Hampshire Regiment Museum, Winchester, eventually producing a commemorative feature in the grounds. The first day, involving South Wonston Primary School, was a great success with the museum's education volunteer, Kayte West, being a real star. A version of the project has been extended to local scout groups. 
The Cubs get to grips with Gallipoli.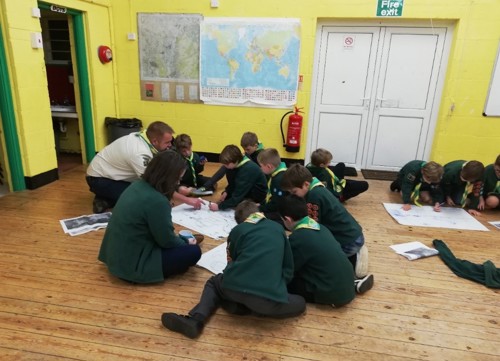 Pupils scrutinise a painting of the River Clyde.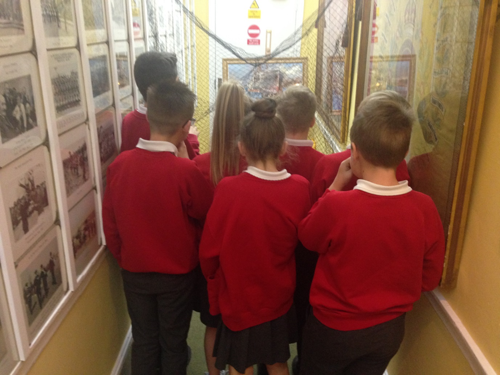 The pupils prepare to re-enact the Helles landing with the teachers playing the Turks.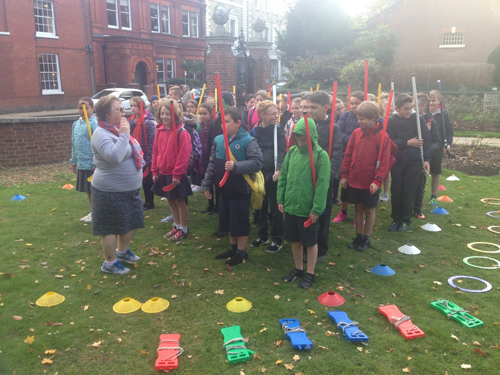 Impact: Trustees are concerned that all educational activities have, if possible, a measurable impact. By this they mean that when the project is designed an estimate is given as to the number of adults and young people who will learn more about Gallipoli. They also hope that any project will recruit new members. I would estimate that so far over 300 adults and 350 young people have been involved in new educational activities. An small number of new members have ben recruited.
Legacy: they also expect that the majority of projects have some sort of lasting legacy that will continue to highlight, in the public mind, the campaign. The projects involving museum "champions" and community activities around war memorials will result in literature being produced on Gallipoli.   The projects involving Brune Park School and the Royal Hampshire Regiment Museum will result in new memorials. The film will be a lasting memorial in itself. Most of the current projects will result in articles for the Gallipolian and new presentations to GA events.
Additional Activities.
In November I taught a number of lessons on Gallipoli at Bristnall Hall Academy, Oldbury, West Midlands, where I am Governor. I also taught history there for two years prior to retirement. I used teaching materials adapted from the GA website but with a focus on the 9th Battalion of the Royal Warwickshire Regiment. The aim was also to try to secure the Legacy110 Award for the school. I am confident we have achieved this but I am still awaiting confirmation. The lessons went very well and the behaviour of the students was excellent. They were very interested in the Gallipoli campaign.180 pupils were involved and all took material home to engage with their parents. At the end students were asked why we should remember Gallipoli. Here are some of their responses:
BHA students scrutinise medals belonging to a RWR soldier killed at Gallipoli.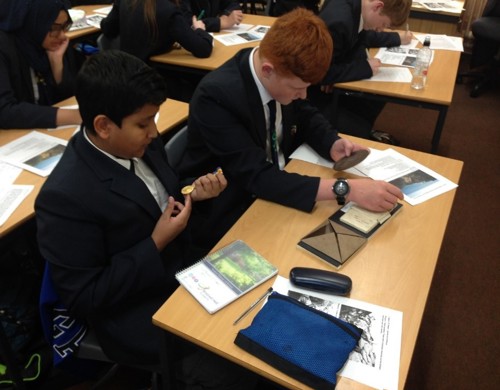 "Many, many soldiers died in battle there, yet they are often forgotten about because not many people know much about the campaign." (Kate)
"It is important to honour the soldiers who fought in the campaign and to show that even if it was a hundred years ago we wouldn't be where we are today without it happening." (Keely)
"It shows that Britain and her Allies were not unbeatable but only human." (Adam)
"Many men died so our lives can be as carefree and safe as they are today. Remembering them is a way of honouring them and thanking them for their heroic services." (Harvey)
"It shows how a lack of planning and good strategy can change a war." (Arjan)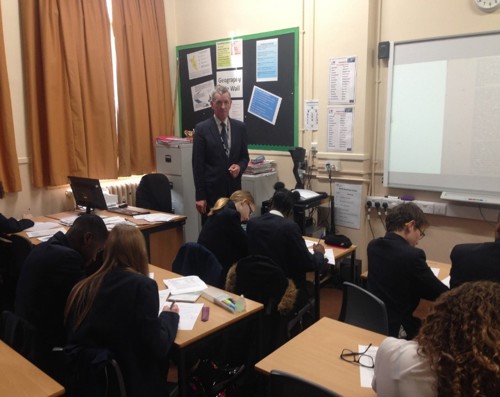 Teaching at Bristnall Hall Academy.
I have represented the GA at two conferences; organised by the Army Museum Ogilvy Trust and Far From the Western Front. I was well received at both and it was clear that the GA is well regarded. It is difficult to ascertain the impact but over a hundred delegates visited the stall at the two conferences. I made some very useful contacts and even managed to recruit new members.
At the Far From the Western Front Conference.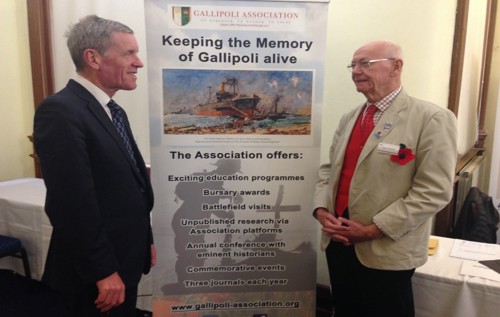 I have taken over with planning for the commemoration for the 29th Division march past, now set for Sunday 10th March. I have even found a piper! I did attend the Armistice Day service at the local church. A number of people then went on to the memorial itself where a wreath was laid. Over 30 were present. I was asked to make a speech which was well received. There was a lot of enthusiasm for the March event and, again, the GA seems to be held in high regard.
A very windy day at Stretton upon Dunsmore.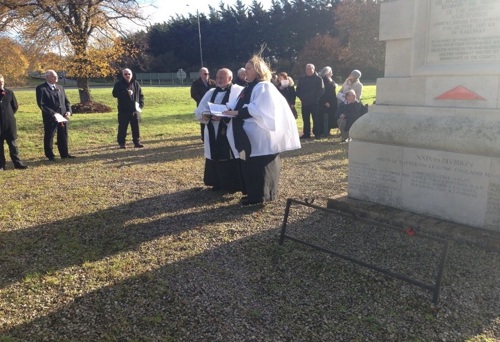 Although I can claim no credit at all for the event, I have included one photo from the very successful ACF trip to Gallipoli. Well done to all those involved.
The ACF group.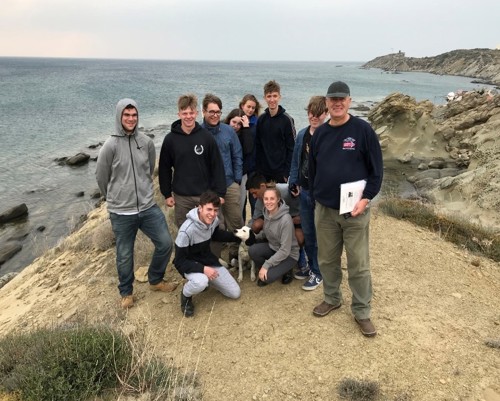 If any members wish to know more about these projects I can be contacted via…. If any members have ideas for other educational projects they can also contact me. The Trustees have allocated the budget for 2018-19 but I am always available for advice or to contribute to projects.
Ian Binnie.
Education Officer and Trustee, Gallipoli Association
31/12/18