HELLES - The naval campaign was spluttering to a close - at least on the surface. The attempt on the Straits on 18 March had failed. The British and French ships were still engaged in supporting the land operations on the Peninsula but the clock was ticking down to the arrival of German submarines in the Aegean. It would be soon. For Henry Denham the 18 May was a fairly ordinary day.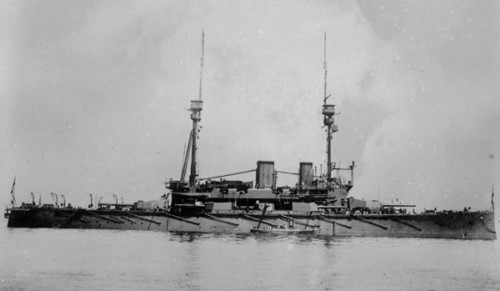 "Off Sedd el Bahr, supporting ship: at 6.30 we came to anchor of V Beach. Nothing at all happened during the forenoon. At 1.30 the French Saint Louis ran up as far as Donuz Deresi and, of course, 'Archie' had half a dozen shots at her, but by very good manoeuvring no hits were obtained. At 2.45 our French Sedd el Bahr howitzers opened fire on Turkish long-range artillery. 3pm. Big howitzer shells being fired dropped on Sedd el Bahr village and on V Beach. At 3.15 Yeoman Grant, who was keeping a very sharp lookout for floating objects, sighted a floating contact mine drifting down, which was very difficult to recognise owing to its colour and to the rough state of the sea. However we got guns ready for sinking mine and sent picket boat away with net. At 3.25 when no-one was looking, submarine E14 (Lieutenant Commander Boyle) suddenly broke surface between us and the Saint Louis, She then proceeded to Cape Kephalo flying the skull and crossbones; she had been up the Dardanelles for three weeks and one day. During her time up there besides what she 'fished' she passed many empty transports which she let go, also refugee ships which she made heave to and then let carry on; the latter always cheered her loudly. E14 on her downward journey stopped off Chanak, and under heavy fire and bothered by sweeps all the time; she counted sixty guns there. At 3.28 we opened fire on the mine with P1 12-pounder; picket boat engaged it with 3-pounder at close range. 3.38. Eventually mine sunk by concussion of so many shots bursting close to it from P1; also many shots ricocheted and landed very close to V Beach. After tea we opened fire by order with fore turret and P1 on Achi Baba; unfortunately one shot from P1 landed right into French troops above de Totts but luckily did not kill any. Sight-setter had put on 3,800 yards instead of 10,800. During the dog watch we played deck-hockey while under fire from 'Whistling Rufus' but he soon shut up after three or four rounds. At 7pm we weighed and proceeded to anchorage W Beach for the night." (Midshipman Henry Denham, HMS Agamemnon, Royal Navy)
And do to bed. The Turkish guns based on the Asiatic shores across the Straits and harassing the beaches were given various exotic nicknames including 'Asiatic Annie', 'Puking Percy' and the above mentioned Whistling Rufus.
SOURCE:
H N Denham, Dardanelles: A Midshipman's Diary, (London, John Murray, 1981), pp.110-111